The Downtown Windsor BIA has unveiled the work of two prominent local artists for its first-ever Winter Works, a collection of art displayed in Maiden Lane West.
The featured artists are Billie McLaughlin and Daniel Bombardier, whose works are not only well known in Windsor-Essex but on a national scale.
Article Continues Below Local Sponsor Message
McLaughlin, a conceptual artist, "uses sculpture, installation, and performance art to explore the act of 'play' as a crucial element to human development and quality of life," according to her biography. Her work, entitled Growth, is a colourful, 15-foot wooden sculpture built from salvaged lumber, a nod to the fortresses of a child's imagination.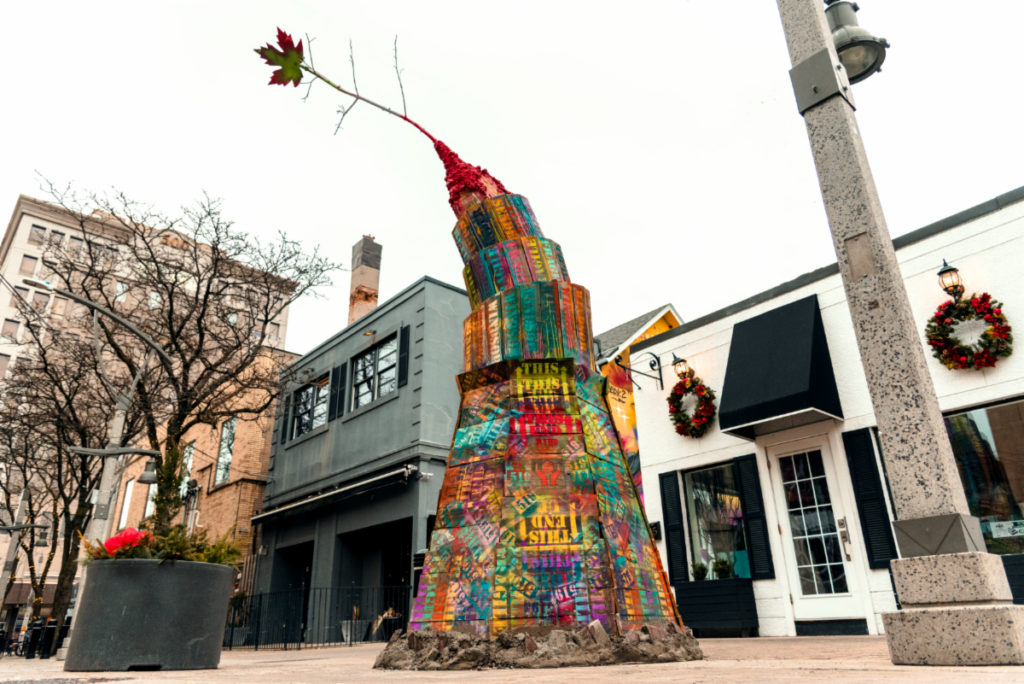 Bombardier, better known in art circles as DENIAL, is a pop/mural artist lauded for his aerosol and stencil artworks. Half a million of his adhesive logos are displayed in public spaces worldwide.
His submission for Winter Works, entitled Cube A, is a "stack of familiar iconography showing a variety of larger scale work in a more compact and accessible size… (the work stacked) playfully behind a white picket fence on 16 square feet of astroturf. " This brightly colored kinetic tower of "blocks" is an homage to Windsor; DENIAL says he created this work as a celebration of his hometown, inviting the viewer to engage with a corner of his own backyard.
The two artists have also collaborated on a piece, entitled Big Idea. A transparent cube balances on a toothpick, covered by one of DENIAL's signature motifs. The artists add that McLaughlin's "sculptural aesthetic of crude construction juxtaposes the precision of (Bombardier's) designs in an absurd and whimsical contrast."