William and Kate make shock royal go to to Windsor meals financial institution | UK Information
The Prince and Princess of Wales have shocked volunteers, by making a surprise visit to a Windsor food bank.
Those at the Windsor Foodshare were only given an hour's warning before the royal couple arrived on Thursday morning, where they helped pack deliveries and workers offered an unexpected glimpse into their married life.
Chief executive Sarah Kember greeted the pair as they arrived at the Dedworth Green Baptist Church, later speaking to them about the work of the food bank with the scheme's founder Sarah Howard and chairman of Windsor Christian Action Geoff Hudson.
Kate asked how many food banks were in the area during the brief meeting, as well as inquiring about whether the produce is fresh, and if some people struggled with the stigma sometimes associated with asking for help.
William went on to ask how to set up a food bank.
The couple then went on a tour of the area, and helped a team to prepare nearly 100 food vouchers, before going on to pack deliveries and help check the food was in date.
'I asked William if he did the shopping normally…'
William joked with the volunteers, at one point saying they should stop chatting and pick up the pace.
He received praise from those at the food bank for his neat packing.
Those there say they were "shocked" to discover they would be meeting the heir to the throne, but later said the pair put them at ease with their "natural" and "down to earth" manner.
The prince also let slip how shopping arrangements work for the royal couple.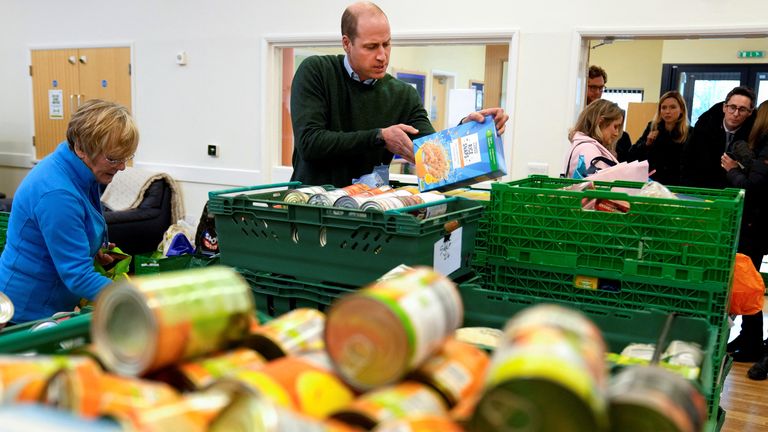 Volunteer Linda, 72, said: "It was fabulous. We didn't know until we got here, we had no idea.
"I asked William if he did the shopping normally, and he said 'sometimes, but usually Kate does it'.
"They were very human and down to earth, very nice, asked lots of questions and were very interested. It is definitely something I will remember."
Emma Pilbrow added: "They were very natural and down to earth. I felt they wanted to be here, and they showed a lot of interest.
"They asked where the food comes from and what happens to any vegetables that were left over. I also joked with them about knobbly vegetables."
Read more from Sky News:
Royal couple announce new pregnancy
Details of King's coronation
'Damage is done' after Prince Harry's book
'I had to tell a few porkies'
Food bank boss Ms Kember said organizing the surprise tour involved keeping some details from her team beforehand.
She said: "I had to tell them [the volunteers] a few porkies, such as that we had a corporate visit or a school visit.
"They were such a lovely couple. They were down to earth and friendly, and really put us at ease.
"William was very neat at packing. They were interested in what happens in our local area and interested in how the food bank started and how we get donations.
"They are welcome back any time, we are always grateful for a pair of hands."