EXPERIENCE THE MAGIC OF THE HOLIDAYS!
Even as the temperatures dip and we all start to complain that our toes are cold, there is no denying that this time of year can also be incredibly magical! Take advantage of the extended dark evening hours and visit one of the amazing light displays we have here across Windsor Essex or for those of you that don't want to get out of the car, take a nice long drive around our small towns to check out the magical light displays through our neighborhoods.
Though the now popular custom of decorating with lights for the holiday season has been around since Christmas trees were once decorated with candles, public displays of illuminated trees are becoming increasingly part of each community's holiday celebrations. These spectacular illuminations transform parks into well lit wonderlands for visitors and residents alike to stroll through, creating picture-perfect postcard settings and Instagramable photo ops.
So before your calendars fill up with holiday parties and celebrations, mark these three beautiful light festivals and all the winter wonderland activities that are aligned with them, in your calendar. These unique holiday experiences provide a special evening for you and your loved ones to capture those perfect holiday memories so get out there and enjoy!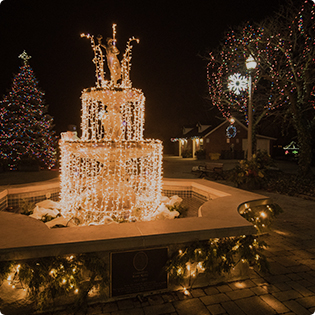 RIVER LIGHTS WINTER FESTIVAL AMHERSTBURG
November 16, 2019 to January 5, 2020
5:00pm to 9:00pm
Downtown Amherstburg,
270 Dalhousie Street, Amherstburg
Admission: Free
What started as a project to get people out of their homes in the wintry holiday season has now become a tradition for thousands every year. The annual Amherstburg River Lights Festival kicks off on November 16th and runs for a six-week stint from mid-November to early January, attracting close to 40,000 visitors with themed displays, interactive photo ops, a life-sized gingerbread warming house and fireworks to top it all off! Kick-off night for the festival is truly a party, with the mayor taking part in the countdown and pressing the "on" button for the entire solar-powered Christmas light festival.
Stroll through two of Amherstburg's downtown parks, the King's Navy Yard Park and Toddy Jones Park, and be dazzled by light every night starting Saturday November 16 at 6pm with the official Opening Ceremony and countdown to lights turned on, followed by FIREWORKS! Every Friday, Saturday and Sunday the Life Sized Gingerbread House is open from 5:30-8:30pm with the display of the entries from the annual Gingerbread House Contest, free crafts for the kids, hot chocolate and Story Time Sundays at 6pm.
The River Lights Winter Festival is an amazing event that is sure to put you into the holiday spirit and not to be missed! Come make this a family tradition in Downtown Amherstburg.
For a full listing of holiday events happening in Amherstburg, visit our YQG Holiday Guide.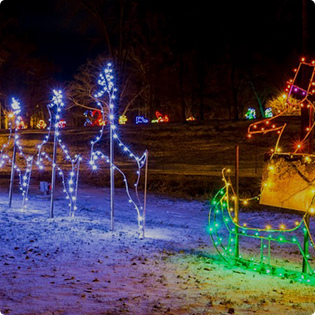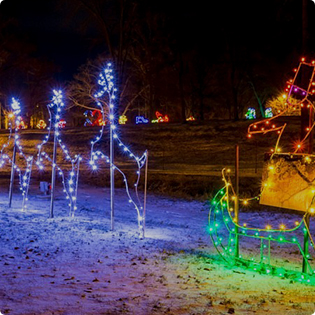 FANTASY OF LIGHTS KINGSVILLE
November 16, 2019 to January 8, 2020
5:00pm to 9:00pm
Lakeside Park
315 Queen Street, Kingsville
Admission: Free
Lakeside Park in Kingsville will be magically transformed into a sea of ​​colorful displays for the Holiday Season! Kicking off the holiday season, the Fantasy of Lights Festival opens Saturday November 16th with an array of family-friendly events and continues to light up the town until January 8, 2020. Bundle up and stroll the grounds or take a ride the mini trackless train through Lakeside Park to see the wonderful light displays or – you will be surrounded by many an ooohh and ahhhh as you take in the sights. The train runs Saturdays and Sundays from November 17, 2019 until December 22, 2019 from 5:00pm until 8:00pm.
The Fantasy of Lights Opening Ceremonies will take place at Lakeside Park, 315 Queen Street, following the 15th annual Santa Claus Parade which starts at 6pm on Saturday November 16th. Santa and Mrs. Claus will Flick the Switch to illuminate hundreds of lighted displays throughout Lakeside Park. Following the "flicking of the switch" spectators will be dazzled by the outstanding fireworks show and can fill their bellies with hot chocolate!
The Fantasy of Lights has something for the whole family to do and enjoy!
For a full listing of holiday events happening in Kingsville, visit our YQG Holiday Guide.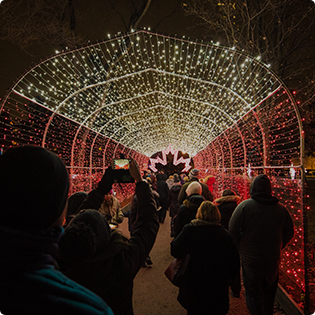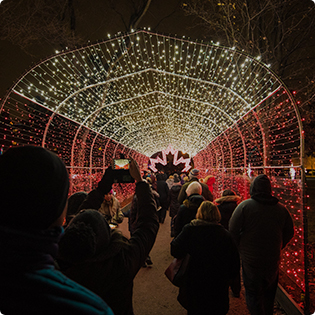 BRIGHT LIGHTS WINDSOR
December 6, 2019 to January 7, 2020
5:30pm to 10:00pm
Jackson Park
125 Tecumseh Road East, Windsor
Admission: Free
In the spirit of the holidays, both residents and visitors njoy a leisurely winter stroll through the beautiful and historic Jackson park at night and be absolutely wowed by hundreds of thousands of LED lights.
Take it from the over 100,000 people visited in 2018 and make sure that Bright Lights Windsor is on your to-do list this holiday season!
Wander through the dazzling lighting displays in the gardens and pose by the giant illuminated tree in the Queen Elizabeth II Sunken Gardens. Be wowed by thousands of lights and a host of iconic holiday characters and instagrammable photo areas throughout the park.
Now in it's third year, Bright Lights Windsor is pleased to add the WE Made It: Holiday Market sponsored by Tourism Windsor Essex Pelee Island in partnership with the Urban Art Market, Rose City Etsy Team and Windsor Eats,. Come early and stay late to experience all of the holiday festivities such as the local artisan market with new vendors each week, food huts and trucks, train rides, festive performances and you may even can catch a glimpse of the roaming Santa!
Hopeless romantics take note—there have even been some epic "lit" proposals in the past at the Bright Lights festival!
For a full listing of holiday events happening in Windsor, visit yqgholidays.ca.
Originally published on Wednesday November 13th, 2019.
To read more blogs from Tourism Windsor Essex click here.
Sponsored by Tourism Windsor Essex. For more details on Tourism Windsor Essex click their website, or visit them on Facebook, Twitter, or Instagram