Prince William jokingly tells off spouse Kate Middleton throughout joint outing in Windsor – greatest images
Last modified on Jan 26, 2023 16:15 GMT
Danielle Stacey

The Prince and Princess of Wales visited Windsor Foodshare on Thursday

The Prince and Princess of Wales rolled up their sleeves to help out at a Windsor food bank on Thursday
Prince William and Kate visited Windsor Foodshare, close to their Berkshire home, where they heard more about the support the organization provides to individuals and families living in the local area. The Waleses also helped to pack food parcels for the charity's client, and William also couldn't help teasing his wife a little – see their hands-on engagement in the video below.
WATCH: Prince William and Princess Kate help out at Windsor food bank
Loading the player…
Their joint outing comes the day after Kate teased an upcoming exciting new project at a meeting she held at Windsor Castle.
See all of the best photos from William and Kate's joint outing…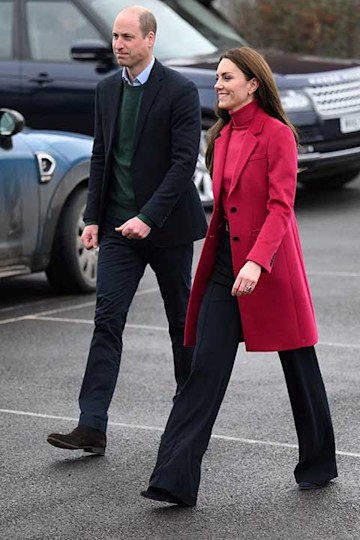 The Prince and Princess of Wales praised Windsor Foodshare's volunteers for the "vital" work they do during their visit.
Kate revealed that their children, Prince George, Princess Charlotte and Prince Louis, are also aware of the project as it is supported by their new school, Lambrook.
Marking its 10th anniversary later this year, Windsor Foodshare provides short-term weekly help in the form of food parcels containing ambient foods, bread, eggs, fresh fruit and vegetables to any local household where there is a likelihood of an individual or family going hungry due to a lack of funds.
Toiletries and cleaning products are also provided on a monthly basis. The organisation, which forms part of Windsor Christian Action, is completely reliant on monetary and food donations from individuals, businesses and local retail outlets.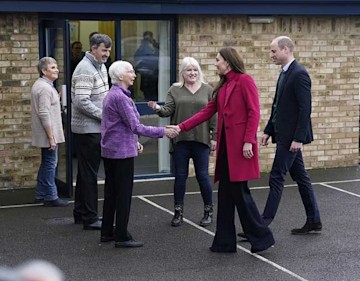 The Prince and Princess met those involved in running the service to learn more about the support they provide to those in need, and about the charity's founding principles which center around treating everyone as equals and making no judgments on their circumstances.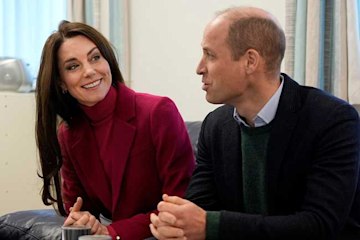 William and Kate speaking about the project with organizers.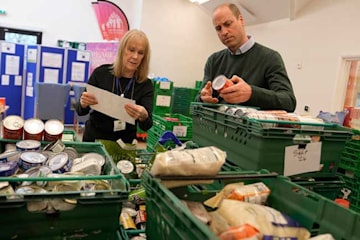 The couple helped to pack parcels with tinned and long-life goods, as well as fresh fruit, vegetables and bread.
As the Princess sorted tins of spaghetti she bombarded volunteers with questions, such as how many clients are helped each week.
William stopped by and teased his wife: "There's too much nattering going on here! We need to speed things up a bit! I've already learned who the chatty ones are here."
In return Kate teased him about his loading of the trolley. "It was a bit of a mess," her husband said with mock sheepishness.
"This really is a wonderful place for bringing people together," the Princess remarked.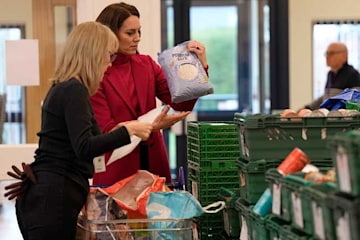 William and Kate heard about the impact that the rising cost of living had on the demand for the service, which operates on a referral basis from a variety of sources such as schools, doctors, social services, churches and community wardens.
In 2022 the charity helped to feed over 7,000 local residents, an increase of 18 per cent from the previous year's support, meaning that on average 150 people receive food per week from Windsor Foodshare.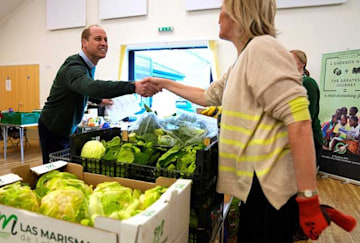 As they left the couple promised to return, William said: "We would love to come back without the entourage."
"Lovely to meet you, Sarah, and the team," Kate enthused, laughing as the organizer told them that one had definitely been a better packer than the other but she didn't like to say whom.
"And one's a better cook than the other," William added jokily.
Volunteer Jane Willocks said afterwards: "They were a lovely couple. Clearly very well briefed but so keen to get involved and hear about what we are doing.
"Kate in particularly wanted to know about the quality and the quantity of food. She asked a lot of questions about the tinned meat, which doesn't look that appetizing but obviously we can't serve fresh. And she was really impressed with the fact that we offer some fresh food such as fruit and vegetables and eggs.
"They were both also really taken about the respect we offer people, our clients. And Kate liked the fact that we have children in here and learn very early on that others are not as fortunate as them."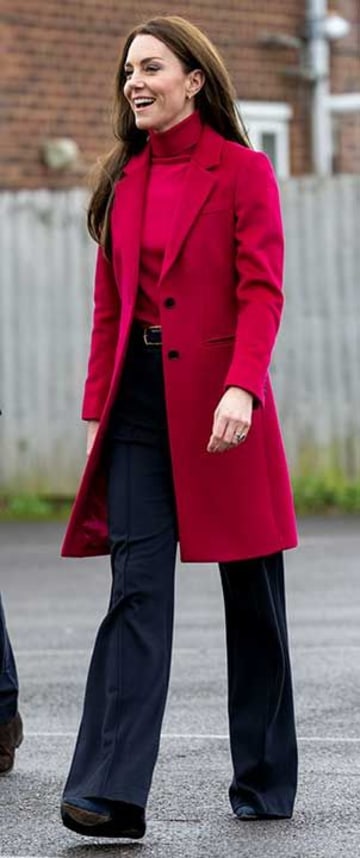 The Princess wore a repeat pink coat and matching high-neck knit by Hobbs London and a pair of wide-legged trousers from Jigsaw.
The couple tweeted after their visit: "Wonderful to spend some time with volunteers at Windsor Foodshare this morning.
"The donations and food packages make such a difference to those in the local area who need them.
"Hope we were more of a help than a hindrance when it came to the packing!"
LISTEN: King Charles – The Man Under The Crown
Make sure you never miss a ROYAL story! Sign up to The Royal Explainer newsletter to receive your weekly dose of royal features and other exclusive content straight to your inbox.