Breadcrumb Trail links
Local News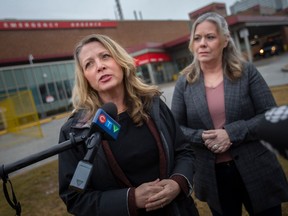 Incoming Ontario NDP leader Marit Stiles is joined by Windsor West MPP Lisa Gretzky outside Windsor Regional Hospital's Ouellette campus on Thursday, Jan. 19, 2023. She was responding to an earlier health care announcement by Premier Doug Ford, who visited the Met campus that same day for another health care announcement. Photo by Dax Melmer /Windsor Star
Article content
The Ontario NDP's incoming leader appeared in Windsor Thursday to speak out against the Doug Ford government's plan to invest in private health care.
Advertisement 2
This advertisement has not been loaded yet, but your article continues below.
Article content
Accompanied by MPP Lisa Gretzky (NDP — Windsor West), Marit Stiles stood outside Windsor Regional Hospital's Ouellette campus in drizzling rain and condemned the Progressive Conservative government's recently announced roadmap for health-care privatization, which includes expanding the number and range of surgeries offered at for profit clinics.
By clicking on the sign up button you consent to receive the above newsletter from Postmedia Network Inc. You may unsubscribe any time by clicking on the unsubscribe link at the bottom of our emails or any newsletter. Postmedia Network Inc | 365 Bloor Street East, Toronto, Ontario, M4W 3L4 | 416-383-2300
Thanks for signing up!
Article content
"The fundamental problem with privatization in health care is that you're moving health-care dollars out of patient care and into profit," Stiles told reporters. "It costs more — the level of care does not improve, corners often get cut.
"We saw that … during the pandemic with how long-term care that was for-profit responded versus not-for-profit. We all know that there's a crisis in health care in Ontario. We know that Doug Ford helped to fuel that crisis.
Advertisement 3
This advertisement has not been loaded yet, but your article continues below.
Article content
"We believe that our system does need extra care, it does need innovation, but that needs to take place within our public health care system.
Stiles' words came mere hours after Ontario Premier Doug Ford stood inside the hospital's Met campus and announced $30 million to improve treatments for patients with cancer and cardiovascular disease. Windsor Regional Hospital will use the funds to renovate its cardiac catheterization lab and expand its cancer centre.
Ford also announced a plan to attract more professionals into the system by allowing health-care workers registered in other provinces and territories to start working in Ontario without first having to register with one of Ontario's health regulatory colleges.
Advertisement 4
This advertisement has not been loaded yet, but your article continues below.
Article content
In response, Stiles expressed doubt that Ontario would be able to attract medical professionals from other parts of Canada: "Pretty much every province in this country has a health-care staffing issue,"
She referred to the provincial government's active court battle to cap wage increases for public sector employees at one per cent annually for three years. The Ontario Superior Court struck down the law last November, ruling it unconstitutional because it infringed on charter rights that guarantee freedom of association and collective bargaining.
The government is appealing to that ruling.



Ontario to invest $30 million in Windsor Regional Hospital




Local hospital, private surgical clinic welcome Ford announcement
"That doesn't sound like a great invitation to Ontario to me," Stiles said. "You can remove the red tape, but I don't see how you're going to be attracting those nurses and other health-care workers to Ontario unless you're willing to address the fact that this government is fighting them in court to keep their wages down."
Advertisement 5
This advertisement has not been loaded yet, but your article continues below.
Article content
Stiles said she's heard from Windsor residents that they are "deeply concerned" about health-care privatization.
"We've seen enough of a drain of health-care workers here in Windsor into the US We cannot afford to lose more of those (workers) — the solutions are investments, and bold and innovative solutions in the public system."
Earlier Thursday, Stiles visited Leamington to discuss truth and reconciliation with Caldwell First Nation leaders. Following the news conference outside the hospital, she met with local union representatives to talk about issues in the local health care, automotive, and education sectors.
twitter.com/wstarcampbell
Share this article on your social network
Comments
Postmedia is committed to maintaining a lively but civil forum for discussion and encouraging all readers to share their views on our articles. Comments may take up to an hour for moderation before appearing on the site. We ask you to keep your comments relevant and respectful. We have enabled email notifications—you will now receive an email if you receive a reply to your comment, there is an update to a comment thread you follow or if a user you follow comments. Visit our Community Guidelines for more information and details on how to adjust your email settings.